Hotpoint HDM67I9H2CB 60cm 4 x Zone Induction Freestanding Induction Cooker Black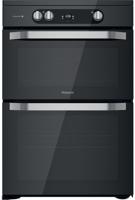 Click to enlarge photograph




Click thumbnail to select
Key Features:
4 x Zone Induction Hob
Top Cavity - Conventional Oven With Grill
Top Cavity - Capacity 46 Litres
Bottom Cavity - Fan Oven
Bottom Cavity - Capacity 72 Litres
Catalytic Liners
Solar Plus Grill
Height: 900 mm
Width: 600 mm
Depth: 600 mm
Guarantee - 10 years parts and 1 labour
Only one left in stock
Multiple cooking possiblites with the HDM67I9H2CB 60cm Induction Cooker that comes with Multiflow Technology that evenly distributes heat in your oven giving you perfect results everytime. The high performance Solar Plus Grill reaches full heat in just 15 seconds which is 20% more efficient than the standard grill. Enhance your cooking experience with the Induction My Menu feature where you can select 4 automatic functions achieving the perfect temperature for any recipe. Combine two zones to cook with the Induction Combi Duo which allows you cook with large pots and pans perfect for rectangular grills or oval shap fish kettles. This cooker comes in a sleek, well-crafted modern design that will suit to any household kitchen and holds up to 77 Litres worth of cooking space leaving you and the family ample room to cook a Sunday roast to perfection.
Catalytic Liners
Uses your oven's heat to keep itself clean and save you time. Catalytic liners work using the heat of the oven to break down grease and fat, so you can spend more time cooking and less time cleaning.
TECHNICAL DATA
Dimensions
Width (cm): 60.0
Depth (cm): 60.0
Height (cm): 90.0
Performance
Power of 3rd heating element(W): 1200
Power of 1st heating element (W): 2100
Structural features
Adjustable feet: No
Knob type: HP Bladed B IX Premium
Number of induction plates: 0
Number of gas burners: 0
Colour: Black
EAN code: 5054645594689
Energy input: Electric
Child lock: Not available
Type of control: Electronic
Top oven type: FAN
Guarantee / warranty maybe subject to registration with the manufacturer

Availability: Low Stock
£ 729.00
Add to Basket
Collect & Recycle available
Buy now & collect Fri 09th Dec
Next available delivery
Sat 10th Dec
We deliver to Liverpool and surrounding areas (North West England). Please enter your postcode below to see if we can offer you this service.