Homestyle TD100L Deep Bowl Turin Large Single Bowl Inset Sink Gunmetal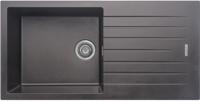 Click to enlarge photograph


Click thumbnail to select
Key Features:
Overall Size (mm) 1000 x 500
Main Bowl (mm) 480 x 430 x 200
Cabinet Size (mm) 600
Drainer Format - Reversible
80% Quartz Content - With Ultra Clean Anti-bacterial Formula
Alternative Colours
TURIN INSET "GRANITE SINKS." Manufactured from 80% Quartz granite particles with ANTI BACTERIAL properties our TURIN collection of granite inset sinks are manufactured with proven German Technology. Featuring a low profile and minimalistic look, they are highly durable, easy to clean, heat, burn and stain resistant and available in a choice of fashionable colours to partner any kitchen style.
1000mm x 500mm overall size, with 200mm "DEEP" main bowl
80% Quartz content with ULTRA CLEAN anti-bacterial formula
Can be installed as LH or RH drainer
Supplied complete with waste, hygienic overflow and fitting clips
Minimum cabinet width required 600mm
Waste disposal compatible
Plumbing kit included
Guarantee / warranty maybe subject to registration with the manufacturer

Availability: In Stock
£ 188.98
Add to Basket
Collect & Recycle available
Buy now & collect Mon 05th Dec
Next available delivery
Wed 07th Dec
We deliver to Liverpool and surrounding areas (North West England). Please enter your postcode below to see if we can offer you this service.