Homestyle EM03/LHB (Left Hand Bowl) Deep Bowl Rhombus Compact Single Bowl & Drainer Inset Sink Brushed Steel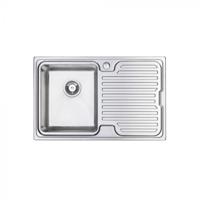 Click to enlarge photograph


Click thumbnail to select
Key Features:
Overall Size (mm) 860 x 500
Main Bowl (mm) 340 x 400 x 202.8
Cabinet Size (mm) 450
Drainer Format - Right Hand
Our RHOMBUS range of steel inset sinks are available in a wide combination of sizing and bowl choices, featuring a linear drainer style, radius 25mm deep bowls with a concealed hygienic overflow, manufactured from SS304 medical grade steel in a brushed finish that will ensure the longevity, look and hygienic properties of this sink for its entire lifetime.
800mm x 500mm overall size, with 202mm "DEEP" main bowl
LH or RH drainer available, ss304 (0.8mm) steel
Supplied complete with waste, hygienic overflow and fitting clips
Minimum cabinet width required 450mm
Waste disposal compatible
Uses UKH039 plumbing kit
Guarantee / warranty maybe subject to registration with the manufacturer

Availability: Low Stock
£ 199.00
Add to Basket
Collect & Recycle available
Buy now & collect Fri 09th Dec
Next available delivery
Sat 10th Dec
We deliver to Liverpool and surrounding areas (North West England). Please enter your postcode below to see if we can offer you this service.