Bosch KIN86NFF0G Serie | 2 177.2 x 54.1 cm Integrated Fridge Freezer White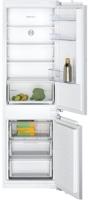 Click to enlarge photograph










Click thumbnail to select
Key Features:
MultiBox XXL: extra-large drawer for your fruit and vegetables.
EcoAirflow: optimal air circulation and a constant temperature level in the cooling area.
LED lights bring a completely new lighting concept to fridges
SuperFreezing: Protects frozen food from defrosting.
NoFrost: never defrost again, thanks to perfect protection from ice formation - that saves time and effort.
Height: 1772 mm
Width: 541 mm
Depth: 548 mm
Guarantee - 2 years parts and labour
Frost Free
Built-in fridge-freezer combination
easy Installation
Performance and Consumption
EU19_EEK_D: F
Total Volume : 260 l
Net Fridge Volume : 184 l
Net Freezer Volume : 76 l
Freezing capacity 24h : 4 kg
Annual Energy Consumption: 293 kWh/a
Climate Class: SN-ST
Noise Level : 39 dB , EU19_Noise emission class_D: C
Temperature rise time : EU19_Temperature rise time_D: 10 H
Functions
Bright interior LED fridge light
Design features
LED electronic control
Super Cooling: No
optical, acoustic for Fridge and Freeze
Design features
4 safety glass shelves in fridge compartment of which 3 are height adjustable
3 door trays, including 0x dairy compartment
1 removable door storage compartments.
Freshness System
1 MultiBox - Transparent drawer with a rippled bottom, ideal for storing fruits and vegetables.
Food freshness system
SuperFreezing function with automatic deactivation
NoFrost freezer, never have to defrost ever again
3 freezer drawers
Dimension and installation
Dimensions: 177.2 cm H x 54.1 cm W x 54.8 cm D
Niche Dimensions: 177.5 cm H x 56 cm W x 55 cm D
Key features - Fridge section
Right hinged door, door reversible
220 - 240 V
Key features - Freezer section
3 x egg tray, 1 x ice cube tray
Country Specific Options
Based on the results of the standard 24-hour test. Actual consumption depends on usage/position of the appliance.
Guarantee / warranty maybe subject to registration with the manufacturer

Availability: Low Stock
£ 659.00
Add to Basket
Collect & Recycle available
Buy now & collect Mon 05th Dec
Next available delivery
Wed 07th Dec
We deliver to Liverpool and surrounding areas (North West England). Please enter your postcode below to see if we can offer you this service.