NEFF N 70 T56FD50X0 4 Zone 60cm Surface Mount without frame Induction Hob Black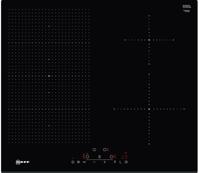 Click to enlarge photograph








Click thumbnail to select
Key Features:
4 x Zone Induction Hob
Boost Setting For All Zones
Variable 17-Stage Power Setting (each zone)
Digital Display of Cooking Levels
2 Stage Residual Head Indicators
Timer With Automatic Shut Off For All Zones
ReStart Function, Automatic Pan Recognition
Current Options For 16A, 13A, or 10A Connection
Height: 51 mm
Width: 592 mm
Depth: 522 mm
Guarantee - 2 years parts and labour
NEFF Complimentary Induction Pan Set ( End 31-07-23 )

Flex Induction
Step out of the hot ring and enter into a hub of freedom. Flex Induction invites you to place your pots and pans anywhere within the Flex Zone area. Today's magic is invisible: beneath your glass hob lie four induction coils that join forces depending on the size and shape of your cookware. Pinpoint your heat and enjoy the freedom to cook wherever your intuition takes you.
Induction
Our induction hobs are as varied as our chefs. They have just one thing in common: Thanks to the intuitive operation of the TwistPad® or TwistPadFire®, there's nothing to distract you from what really makes cooking worthwhile: the joy of experimentation.
Design
Bevelled front edge
60 cm: space for 4 pots or pans.
Flexibility of cooking zones
Flex Induction: use cookware of any shape or size anywhere within the 40cm long zone.
Cooking zone front left: 240 mm, 200 mm, 2.2 KW (max. power 3.7 KW)
Cooking zone rear left: 240 mm, 200 mm, 2.2 KW (max. power 3.7 KW)
Cooking zone rear right: 145 mm , 1.4 KW (max power 2.2 KW)
Cooking zone front right: 210 mm, 2.2 KW (max. power 3.7 KW)
Usage convenience
Touch control: control the power with imprinted +/- touch buttons.
Variable 17-stage power settings for each zone: precisely adapt the heat with 17 power levels (9 main levels and 8 intermediate levels).
Keep warm function: keep dishes warm at preset low power level.
Timer with automatic shut off for all zones
: switches off the cooking zone at the end of the time set (e.g. for boiled eggs).
LED timer for each zone with switch off function and acoustic signal
: an alarm sounds at the end of the time set (e.g. for pasta).
Time saving & efficiency
Power Boost function for all zones
: boil water faster thanks to 50% more energy than at the highest standard level.
QuickStart function: when switching on, the hob automatically selects the cooking zone with cookware (when placed on a zone whilst the hob is off).
ReStart function: in case of unintentional switch-off, this feature restores all previous settings by switching on the hob again within 4 seconds.
Safety
2 stage residual heat indicators: indicates which cooking zones are still hot or warm.
Control panel lock: prevent unintended activation of the hob.
Control panel suspension: wipe overboiled liquids without unintentionally changing settings (blocking all touch buttons for 30 seconds).
Main switch: switch off all cooking zones at the touch of a button.
Safety cut out facility: for safety reasons, heating stops after a preset time if not used (possible to customise).
Energy consumption display: shows the electricity consumption of the last cooking process.
Installation
Dimensions of the product (HxWxD mm): 51 x 592 x 522
Required niche size for installation (HxWxD mm) : 51 x 560 x (490 - 500)
Min. worktop thickness: 16 mm
Connected load: 7.4 KW
4.6kW power output (20A); current management options for 16A, 13A or 10A connection: limit the maximum power if needed (depends on fuse protection of electric installation).
Power cord: 1.1 m, Cable included in packaging
Guarantee / warranty maybe subject to registration with the manufacturer

Availability: Low Stock
£ 879.00
Add to Basket
Collect & Recycle available
Buy now & collect Mon 06th Feb
Next available delivery
Tue 07th Feb
We deliver to Liverpool and surrounding areas (North West England). Please enter your postcode below to see if we can offer you this service.