Liebherr T 1710 Comfort Table top 149Litre 55.4cm wide ( T1710 ) Freestanding Fridge White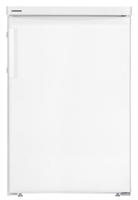 Click to enlarge photograph



Click thumbnail to select
Key Features:
4 x Shelves (3 Adjustable)
Capacity (Litres) 149
Bottle rack, Vegetable bins, Egg trays
Dimensions H x W x D (mm) 850 x 554 623
Transparent vegetable bins
Transparent vegetable bins provide plenty of space for the organised storage of fruit and vegetables. In addition, they are easy to clean.
Reversible door hinges
The appliances are factory fitted with door hinges on the right. The reversible door hinges permit optimum use of the appliance wherever it is located.
General product information
Model type Table top refrigerator
GTIN 4016803069119
Output and consumption
Total volume 149 l
Voltage 220-240 V ~
Frequency 50 Hz
Connection rating 0.8 A
Energy efficiency class F
Energy consumption per year 116.07 kWh/a
Climate class SN-ST
Noise level 37 dB
Dimensions and weight
Product dimensions (H/W/D) 85.0 / 55.4 / 62.3 cm
Height / Width / Depth (with packaging) 911.0 / 567.0 / 711.0 mm
Weight (without packaging) 32.70 kg
Weight (with packaging) 35.30 kg
Control and functions
Control Mechanic control system
Position In the interior
Control unit Rotary control
Individual temperature zones 1
Temperature zones 1
Refrigerator compartment
Defrosting method automatic
Forced air cooling —
Lighting LED light
Number of storage shelves, refrigerator compartment 4
of which height-adjustable 3
Storage shelf material, refrigerator compartment Glass
VarioSafe —
Bottle shelf —
Bottle rack 1
Number of can racks 2
Egg trays ✔
Vegetable bins 1
of which on pull-out rollers 0
Design and materials
Door design SwingDesign
Colour white
Door material Steel
Side wall material steel
Handle Ergonomic slimline handle
Set-up and installation
Model installable under worktop yes
Worktop, removable yes
Door hinges Right reversible
Guarantee / warranty maybe subject to registration with the manufacturer

Availability: In Stock
£ 289.00
Add to Basket
Collect & Recycle available
Buy now & collect Fri 09th Dec
Next available delivery
Sat 10th Dec
We deliver to Liverpool and surrounding areas (North West England). Please enter your postcode below to see if we can offer you this service.