Hotpoint HR 724 B H 77cm 4 Zones Ceramic Hob with Touch Control and Dual Oval Zone ( HR724BH ) Ceramic Hob Black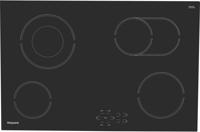 Click to enlarge photograph



Click thumbnail to select
Key Features:
Black glass finish
Touch controls
9 power levels
4 cooking zones
Residual heat indicators
Height: 46 mm
Width: 770 mm
Depth: 510 mm
Guarantee - 10 years parts and 1 labour
The Hotpoint HR 724 B H Built-in Ceramic Electric Hob comes in stylish and contemporary black glass finish measuring just under 70cm with 4 cooking zones 1 being two dual-zone elements for a more versatile cooking, perfect for larger families. You will find touch control functions giving you precise temperature control, the 4-zone hob provides rapid and efficient heating, saving time and money. With 9 power levels on each hob you have enough control and flexibility to prepare any delightful dish. There is a residual heat indicator feature where the indicator lights stay on until the surface has cooled down to a temperature which is safe enough to touch, also A child lock also keeps things safe by preventing little hands from adjusting controls.
TECHNICAL DATA
Dimensions
Width (cm): 77.0
Depth (cm): 51.0
Height (cm): 4.6
Structural features
Ignition type: Not available
Number of radiant plates: 4
Booster: 0
Number of gas burners: 0
EAN code: 5054645043217
Energy input: Electric
Number of electric plates: 0
Guarantee / warranty maybe subject to registration with the manufacturer

Availability: Low Stock
£ 269.00
Add to Basket
Collect & Recycle available
Buy now & collect Mon 05th Dec
Next available delivery
Wed 07th Dec
We deliver to Liverpool and surrounding areas (North West England). Please enter your postcode below to see if we can offer you this service.