DeDietrich DKC7340W 40Litres 1000W Compact M/W and Grill Built-in Microwave White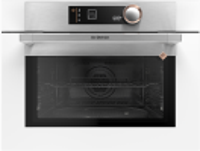 Click to enlarge photograph

Click thumbnail to select
Key Features:
Cavity Capacity (Litres) 40
Turntable Size (cm) 36
1000 Watt power output
Easy-to-use Control Panel
Height: 456 mm
Width: 592 mm
Depth: 565 mm
Only one left in stock
Alternative Colours
When time is of the essence in creating, making or adjusting your recipes, there's nothing quite like the Multifunction Combined Microwave. It defrosts in record time, reheats, roasts and can cook two large dishes at once thanks to the Fan-Assist function - all whilst preserving the taste and nutritional value of your creations.
Main Specification
Oven type: Combined microwave
Construction type: Built-in
Cavity capacity (L): 40
Control Panel
Type of control: Electronic
Type of time control: DX1 lcd White
Delay timer (min): 599
Number of MW power levels: 10
Door
Colour of the door: Stainless steel
External door panel material: Glass
Door opening: Drop down
Door opening system: Handle
Cavity
Grill power (W): 1750
Waves regulator: Diamond
Number of MW outlets: 4
Type of grid: Heating element
Cavity material: Enamelled
Diameter of the turmtable (cm): 36
Removable turntable: Yes
Pulse convection: Yes
Conventional: No
Integrated turning plate: Yes
Connections
Voltage (V): 220-240
Frequency (Hz): 50
Current (A): 16
Total power for connection (W): 3400
Length electrical supply cord (cm): 125
Plug type: EEC
Certificates of approval: EEC;OC;ROSTEST
Dimensions
Dimensions of the cavity HxLxP (mm): 226X420X415
Dimensions of product (mm) (HxWxD): 456X592X628
Built in dimensions HxWxD(mm): 450X560X550
Net weight (kg): 38.38
Gross weight (kg): 42.38
Accessories: Chromed side racks;1 Safety Grid;Square glass tray
Guarantee / warranty maybe subject to registration with the manufacturer

Availability: Low Stock
£ 949.00
Add to Basket
Collect & Recycle available
Buy now & collect Mon 06th Feb
Next available delivery
Tue 07th Feb
We deliver to Liverpool and surrounding areas (North West England). Please enter your postcode below to see if we can offer you this service.