Baumatic BWC305SS 19 bottle Built In Wine Cooler Black / Stainless Steel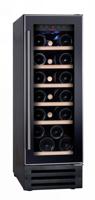 Click to enlarge photograph


Click thumbnail to select
Key Features:
Holds 19 bottles of wine
Fan cooling system evenly chills bottles on every shelf
6 x Wooden Shelves
Wine Temperature Range 5 to 22 °C
Height: 870 mm
Width: 295 mm
Depth: 570 mm
Star Buy
The Baumatic wine cabinet is a perfect addition to the kitchen for any wine connoisseur and with the black aesthetic and wooden shelves there is an inference of sophisticated luxury. The cabinet features adjustable temperature and can store up to 19 Bordeaux style bottles.
As part of the stunning design the wine cabinet can be installed as built-in or freestanding and features a LED display and the adjustable temperature which can either be set in celsius or fahrenheit.
19 bottle electronic wine cabinet
Built-under or freestanding possibility
Temperature range: 5 - 22ºC
LED display and electronic control operation
6 wooden shelves
5 year parts and 2 year labour warranty
Specifications
Cavities 19 Bordeaux style bottles
Net Capacity B
Operation Full touch controls
Door Reversible door
Zones Single temperature zone
Guarantee / warranty maybe subject to registration with the manufacturer

Availability: In Stock
£ 299.00
Add to Basket
Collect & Recycle available
Buy now & collect Mon 05th Dec
Next available delivery
Wed 07th Dec
We deliver to Liverpool and surrounding areas (North West England). Please enter your postcode below to see if we can offer you this service.