Hoover HMC 440 TVX H-MICROWAVE 500 Combi ( HMC440TVX ) Built-in Microwave Black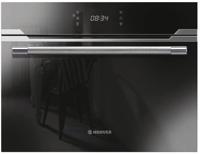 Click to enlarge photograph

Click thumbnail to select
Key Features:
11 x Cooking functions
13 x auto menu programms
Oven capacity (net): 44 litres
Microwave 900W + grill 1750W
Full touch control interface
Height: 455 mm
Width: 595 mm
Depth: 520 mm
Only one left in stock
Black Glass & Stainless Steel Hoover Built-in Microwave HMC 440 TVX, This HMC 440 TVX microwave has install dimensions of 59.5cm (width) x 45.5cm (height) x 45.5cm (height) with 44 litres cavity capacity, 1750 grill power and maximum micro-wave power of 900watts. The HMC 440 TVX also comes with 5 number of power levels, interior light, timer.
MAIN FEATURES
Product name / Commercial code HMC 440 TVX
Product code 38900095
EAN Code 8016361922006
Built-in / Free standing Built-in
Microwave type MW-Combi
TECHNICAL FEATURES
Connectivity None
Cavity capacity (l) 44
Number of power levels 5
Type of control Digital
Grill power (w) 1750
Voltage (V) 230
Frequency (Hz) 50
Optional accessories Grill Grid
AESTHETIC
Colour Black
Door opening Drop-Down
PERFORMANCE AND CONSUMPTION
DIMENSIONS
Product height (mm) 455
Width of the product (mm) 595
Depth of the product (mm) 569
Turntable diametre (mm) 360
Net weight (kg) 36
Gross weight (kg) 42
Guarantee / warranty maybe subject to registration with the manufacturer

Availability: Low Stock
£ 539.00
Add to Basket
Collect & Recycle available
Buy now & collect Mon 05th Dec
Next available delivery
Wed 07th Dec
We deliver to Liverpool and surrounding areas (North West England). Please enter your postcode below to see if we can offer you this service.