Stoves ST GTG75C 75cm 5 Gas Burners Cast Iron Pan Supports ( 444410196 ) Gas Hob Black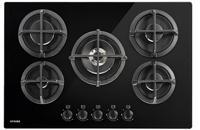 Click to enlarge photograph



Click thumbnail to select
Key Features:
Cast Iron Pan Supports
Flame Safety Device
Easy Clean Surface
Auto Ignition
Gas-Through-Glass
5 x gas burners.
Height: 97 mm
Width: 750 mm
Depth: 510 mm
75cm built-in gas through glass hob offers 5 gas burners. Additional features include cast iron pan supports, automatic ignition, front rotary controls, flame safety device and easy clean surface.
Key Technical Specifications
Fuel Gas
Gas Hob Burner 1 (kW) 3.6kW
Gas Hob Burner 2 (kW) 3.0kW
Gas Hob Burner 3 (kW) 1.75kW
Gas Hob Burner 4 (kW) 1.75kW
Gas Hob Burner 5 (kW) 1.0kW
Height (mm) 97
Width (mm) 750
Depth (mm) 510
Weight (kg) 13.35
SKU 444410196
Guarantee / warranty maybe subject to registration with the manufacturer

Availability: Low Stock
£ 369.00
Add to Basket
Collect & Recycle available
Buy now & collect Fri 09th Dec
Next available delivery
Sat 10th Dec
We deliver to Liverpool and surrounding areas (North West England). Please enter your postcode below to see if we can offer you this service.