Hotpoint DU2 540 BL ( DU2540BL ) CLASS 2 60cm Built-Under Double Electric Oven Black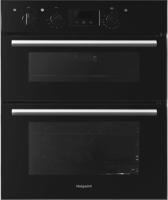 Click to enlarge photograph




Click thumbnail to select
Key Features:
Main Oven - Fan Oven
Secondary Oven - Conventional Oven, Twin Variable Grill
24 Hour Electronic Programmable Timer
Easy Clean Oven Finish
Lights In Both Ovens, Double Glazed Doors
Air Flow Cooking Gan & Internal Chimney Venting
Adjustable Levelling Feet
Height: 860 mm
Width: 595 mm
Depth: 570 mm
Guarantee - 10 years parts and 1 labour
Delve into bigger culinary adventures with the super capacity of the Hotpoint Built-In Electric Double Oven. Enjoy 59L of capacity in the top oven and three automatic functions to facilitate Multi-Level Cooking, Slow Cooking and Defrosting with ease. Thanks the Circulaire Fan reduce cooking time by 20% through a clever combination of fan and rear element heat production to ensure even cooking between the shelves. A great function if you love to batch bake or create delicious pastries. Within the top oven, as well as an extra 37L of cooking space, choose between traditional cooking and grilling. Including three shelves plus a grill pan and a triple glazed door to reduce heat loss, the Hotpoint Built-Under Double Electric Oven offers everything you need for creating tasty dishes.
PERFORMANCE
Energy input : Electric
Energy efficiency class - cavity 1 : A
Energy efficiency class - cavity 2 : A
Energy consumption forced air convection (kWh) - cavity 1 : 0.85
Energy consumption conventional (kWh) - cavity 2 : 0.68
DIMENSIONS
Height (cm) : 86.0
Width (cm) : 59.5
Depth (cm) : 57.5
Niche dimensions HxWxD (cm) : 57.0
STRUCTURAL FEATURES
Integrated cleaning system : Easy to clean enamel
Integrated cleaning system of second cavity : Easy to clean enamel
Oven guides - cavity 1 : Grids
Oven guides - cavity 2 : Wall-embedded
Usable volume - cavity 1 (l) : 59
Usable volume - cavity 2 (l) : 37
Time control - cavity 1 : Electronic
Colour : Black
Current (A) : 18,8
Cooking method of the cavity : Fan oven
Grill type Secondary Oven : Variable Electric
PROGRAMS
Fan
Twin grill
Forced air
Defrost
Programmable timer - cavity 1 : Start and Stop
Slow cooking
Guarantee / warranty maybe subject to registration with the manufacturer

Availability: Low Stock
£ 389.00
Add to Basket
Collect & Recycle available
Buy now & collect Mon 06th Feb
Next available delivery
Tue 07th Feb
We deliver to Liverpool and surrounding areas (North West England). Please enter your postcode below to see if we can offer you this service.