NEFF G4344XFF0G Built-Under Integrated Freezer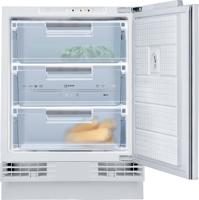 Click to enlarge photograph


Click thumbnail to select
Key Features:
Freezer Capacity 98 Litres (Net)
Freezing Capacity 12kg/24hrs
Storage Time In Power Failure 23hrs
Right Hand Hinged Reversible Door
Energy consumption 184kWh/Yr Noise Level 38dB(A)
Height: 820 mm
Width: 598 mm
Depth: 548 mm
Guarantee - 2 years parts and labour
Star Buy
The built-in freezer with temperature rise alarm and superfreeze function.
Lower the temperature temporarily with Super Freeze
You want to freeze a new tasty perk? Go ahead and lower the temperature in your freezer to prevent your already frozen goods from warming up just by being in the same drawer. Super Freeze lowers the temperature temporarily before switching back automatically. Simply activate "Super Freeze".
A+
Choose a plus for less: the energy efficiency class A+ stands for low consumption.
Performance and Consumption
Energy Efficiency Class: A+
Energy consumption: 184 kWh kWh/yr.
Total net capacity: 98 litres
Noise level dB(A) re 1 pW: 38
Functions
Design features
Mechanical control
Temperature indicator on inside of door
1 compressor/1 cold circuit
SuperFreeze function with automatic deactivation
Freezer malfunction warning signal: Optic and acoustic Warning System
Food freshness system
Net freezer capacity: 98 litres
Freezing capacity in 24 hours: 12 kg
Maximum freezer storage time in power failure: 23 hours
3 freezer drawers
1 ice cube tray with lid
Key features - Fridge section
Right hinged door, reversible
Ventilation through plinth
Variable plinth adaption
Height adjustable feet in the front
Climate class SN-ST (suitable for ambient temperatures between 10 to 38°C)
Connection value 90 W
220 - 240 V
Dimension and installation
Dimensions: 82 cm H x 59.8 cm W x 54.8 cm D
Niche Dimensions: 82 cm H x 60 cm W x 55 cm D
Guarantee / warranty maybe subject to registration with the manufacturer

Availability: In Stock
£ 489.00
Add to Basket
Collect & Recycle available
Buy now & collect Mon 06th Feb
Next available delivery
Tue 07th Feb
We deliver to Liverpool and surrounding areas (North West England). Please enter your postcode below to see if we can offer you this service.